Jessie the Yodeling Cowgirl (or better simply known as Jessie), is the tritagonist in Toy Story 2. She is
also a major character in other appearances of the Toy Story series.
Background
Edit
Personality
Edit
Jessie is a friendly, excitable cowgirl doll. She likes being loved by any child and has the power to yodel. She hates being in storage ― as it makes her claustrophobic ― and not having someone to love her. A girl named Emily had once loved her until she gave her up and put her in a charity box, which emotionally scarred Jessie forever.
Physical Appearance
Edit
Like Woody, Jessie is a lanky cowgirl rag doll. She has red hair braided with a yellow bow, green eyes, and matching felt hat with white lace. Her outfits consist of a white long-sleeved western-style shirt with both yellow blouse and cuffs that have red doodles, blue jeans, a belt made from brown plastic with a buckle made from gold plastic, white chaps that have cow spots all over, cowgirl boots made from brown plastic, and a pull string on her back with a white loop attached to it.
She is not an official member of the Disney Princess franchise because, her heroism isn't significant, not royalty, not human and was introduced in a squeal. However, along with Kida, Alice Liddell, and Dot, she was featured in My Princess Books collection.

Jessie seems to be scared of going in cases. In Toy Story 2, it is revealed she has claustrophobia, a fear of which she gets over in Toy Story of Terror.
Jessie's claustrophobia is basically post-traumatic stress disorder as being abandoned in a box and in storage for so long traumatized her.
Given that other toys were not seen in Jessie's flashback, it is implied that she was Emily's only toy, which is possibly another reason for her fears.
It is unknown how many sayings Jessie has by pulling her pull string, but in the series it can be assumed she can say nine like Woody and Stinky Pete, including her trademark yodel.
When Jessie first meets Woody, she exclaims, "Sweet mother of Abraham Lincoln!" Abraham Lincoln's mother was Nancy Hanks, a blood relative of Tom Hanks. Tom Hanks is a direct descendant of an uncle of Nancy Hanks.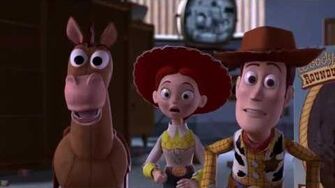 Community content is available under
CC-BY-SA
unless otherwise noted.