NOTE: If you are wanting to know why you cannot edit this page is because it has been protected from Vandalism, you will be able to edit it once it's date expires.
Snow White is the titular protagonist of Walt Disney's first 1937 animated length feature film, "Snow White and the Seven Dwarfs.
She was voiced by the late Adrianna Caselotti and her current actress is Pamela Ribbon
Background
The 14 year old Princess Snow White lived under her wicked and vain yet beautiful stepmother, Queen Grimhilde, who forces Snow White to engage in menial labor, fearing that one day Snow White's beauty might become greater than her own. After many years, the Queen's magic mirror confirms Snow White as being the "fairest of them all", which causes the Queen to cast Snow White out and send a huntsman to kill her. When he refuses to do so, the huntsman helps Snow White escape into the forest. Snow White stumbles upon the home of the seven dwarfs, who happily aid her. The Queen discovers that Snow White has survived and uses magic to disguise herself as an old hag and creates a poisoned apple that will kill whoever that eats it will be put into "Sleeping Death" and only a kiss of true love could revive her. When the dwarfs are away the hag arrives at the dwarfs cottage and offers Snow White the poisoned apple, unbeknownst to her that it is the Queen in disguise.
Personality
Snow White is well known for her kindness and optimism - both of which act as her greatest strengths, as they've guided her safely through the various hardships faced throughout her life. She is quick to charm, winning the trust and admiration of the Prince, forest animals, and the Seven Dwarfs rather quickly, proving her kindness and pleasant aura makes her a beloved figure. Coined as the "Fairest One of All", Snow White's beauty lies both within her physical appearance and pure heart. With no negativity within her, Snow White is the physical embodiment of positivity and innocence.
She can also be playful, and somewhat sassy, as she takes advantage of Grumpy's sour disposition and initial dislike for her by teasing him, and continuously ignoring his rude remarks by keeping a soft smile or cheery glow, as opposed to acting out of shock, much to Grumpy's annoyance.
Though generally childlike and gentle, Snow White can also be assertive, with the authoritative nature of a mother. Once she takes residence in the cottage of the Seven Dwarfs, Snow White takes control of the household, turning it from an unkempt hovel to a clean and humble environment, something the dwarfs show acceptance and delight over. She furthered her authority by giving the dwarfs a designated bedtime, as well as forcing them to wash in order to eat dinner; though they showed great reluctance and made attempts to avoid the situation, they were ultimately unable to bypass Snow White's firm attitude. In addition, she showed leadership potential when guiding the animals around the house during their cleaning session, successfully instructing them on how to best clean the house and various items inside.
Having been turned a slave in her own home by the Evil Queen at a relatively early age, Snow White is hard-working. In spite of her servant work being forced upon, she was shown to be efficient with her chores. In the dwarfs' cottage, she didn't hesitate to clean the household upon discovering how filthy it was, never minding the work that had to be put into such a task. She doesn't take her blessings of finding shelter in the dwarfs' cottage for granted, instead making the decision to work for her residence.
Possibly Snow White's greatest flaw is also her greatest strength. Due to her strong sense of kindness and goodwill upon others, the princess can at times be gullible and easily manipulated to rebel against the orders of others, such as when she invited the old crone (believing her to be a harmless, and sickly peddler woman) into the cottage for health care, disobeying the dwarfs' orders to stay away from strangers. This would result in her downfall. However, as mentioned above, her loving heart is ultimately able to prevail, as her mutual love for the Prince ultimately saves her life. This exemplifies both the dangers and advantages of having a pure heart and making her a more human character.
Trivia
Snow White the youngest Disney Princess, she is 14 years old.
She is also the first Disney Princess.
Gallery
Videos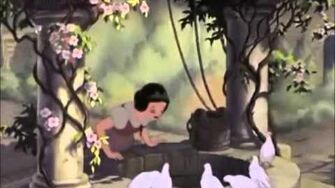 Community content is available under
CC-BY-SA
unless otherwise noted.